Partnering through Knowledge Sharing: Helping Small Livestock holding Communities emerge from the Shadows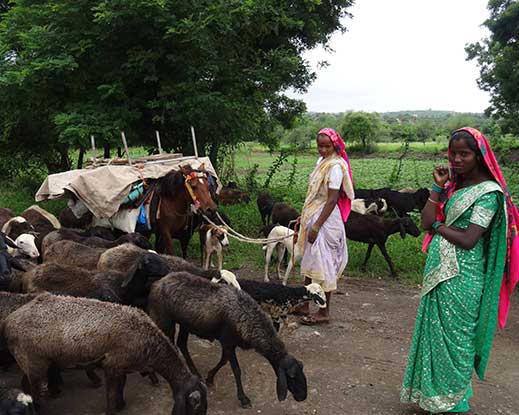 The project addresses problems faced by small livestock owners and migratory pastoral communities who are often invisible and unaccounted for. These include groups like the Dhangar shepherding community and the Maldhari cattle rearing community in Maharashtra, tribal groups rearing goats and poultry, small farmers and other marginalised groups raising 'forgotten stock' such as ducks, pigs, and donkeys.  The overall aim of this project is to work closely with several small livestock rearing communities to help them secure a better livelihood. We do this by partnering with them and sharing knowledge. Through the project we are also understanding the access that migratory pastoral groups have to maternal and child health care and education and looking at ways to improve their access to essential services.
Some of the key outputs of this project will be the
Creation of a knowledge and resource hub for small livestock owners through networked support and mobile tools.
Creation of a feasible model of maternal health for women from migratory pastoral  communities.
Creation of a feasible model of education for children from migratory pastoral communities.
This project is supported by Misereor Germany